Global bulk bag manufacturer and supplier of EVERY style and type of FIBC bag, also known as, ton bags, big bags, super sacks, or jumbo bags. FIBC bag styles include 4 panel bags, u panel bags, circular bags, and baffled bags.
FIBC Bulk Bags, or Flexible Intermediate Bulk Containers, are made of woven polypropylene with lifting straps that allow the container to be filled from top and discharged from the bottom.
FIBC Bags are suitable for the transport of:
Chemicals
Pharmaceuticals
Fertilizers
Food Products
Grains and Seeds
Construction Materials such as sand or gravel
Plastics
ISO-281898 Standard for Non-Hazardous Duty FIBCs
Hazardous Duty FIBCs: UN Model Regulations & DOT 49 CFR
Food Grade FIBCs: BRC, HAACP, GMP, Certified Clean Room
IEC 61340 Standard for Electrostatic Hazardous Duty FIBCs
Our FIBC bags can be manufactured to meet your specific requirements. The height, diameter, and length of the container and spouts, coated or uncoated fabric, and whether a polyethylene liner is necessary will be specified according to the type of product that will be shipped.
We also produce bulk bag liners for ensuring protection of your product. Our bag liners are available in a variety of types and styles.
What Bag Type is Best for Your Application?
A 4-Panel bulk bag is constructed from 4 separate fabric panels which are stitched together at the edges to form a box. A separate sheet of fabric is used to make the square bottom of the bag.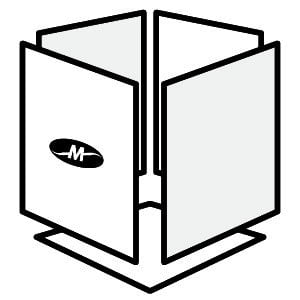 U-panel bulk bags consist of a large "U" piece of fabric with 2 side panels sewn to each of the opposite sides. The U-panel bags will maintain a square shape when filled, especially a U-panel bag with baffles. U-panel bags offer high safe working loads and solid durability.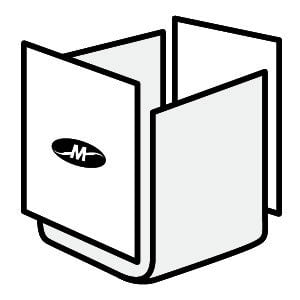 Circular, Seamless, or Tube Bags
These seamless bulk bags are a good alternative to 4 panel bags. They are made from fabric woven on a circular loom and cut to a specified bag height. This eliminates the need for vertical seems. The tubular body design is ideal as a linerless option for fine and hygroscopic materials. They are circular in name only and will take a regular "square" shape when filled with product.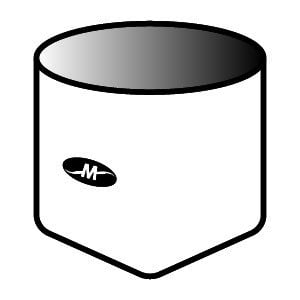 Baffled bulk bags are typically 4-Panel or U-Panel bags that employ internal fabric baffles to improve the bag's squareness and stability. These bags are designed to maximize storage and shipping space.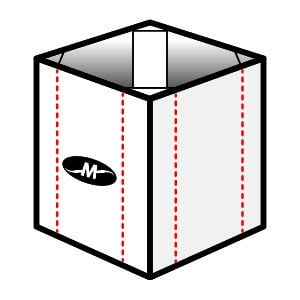 UN certified bulk bags are specifically designed to transport and store hazardous materials. When hazardous products are shipped in FIBCs, the UN mark for the product is printed on the container body.
FIBC bags that are made for contact with food and food related products and manufactured in BRC and AIB certified facilities. BRC and AIB certified bulk bags are manufactured from 100% virgin polypropylene resin, which meets FDA food grade requirements. Our food grade bags can also be supplied with LDPE/LLDPE inner liners approved by the pharmaceutical and food industries.
Type A Bulk Bags: no special electrostatic safety features
Type B Bulk Bags: Type B bags are not capable of generating propagating brush discharges. The wall of this FIBC exhibits a breakdown voltage of 4 kilovolts or less.
Type C Bulk Bags: Conductive FIBC. Constructed from electrically conductive fabric, designed to control electrostatic charges by grounding. A standard fabric used contains conductive threads or tape.
Type D Bulk Bags: Anti-static FIBCs, essentially refers to those bags which have anti-static or static dissipative properties without the requirement of grounding.
Learn More About the Electrostatic Properties of these FIBC Bag types
Bag Lifting and Discharging Options
Bulk bags can be loaded by forklift on pallets or via lifting loops. Material Motion offers a wide variety of bulk bag lifting loops for any application. For emptying, Material Motion offers many bag discharge valve options or the bags can be simply cut open.
Funnel bottom bulk bags have many different types of design, but all have the same principal; to allow non- free flowing product to exit the bulk bag during discharge. Bottom has funnel discharge spout to release contents.
Squeeze Bags are designed for transporting up to 3,000 lbs. of liquid and viscous materials.
Using Bulk Bags for Flood Barriers
Flood Barriers and coffer dams can be built using bulk bags instead of smaller sandbags. Material Motion offers a flood barrier solution based on the bulk bag concept. To learn more about Material Motion's flood containment solution called Dam-Bag, click here.

Bulk Bag Manufacturing Facility
30,000 FIBC Bags and 100,000 PP woven sacks Per Day
250,000 meters of fabric/day
25,000 meters of liners/day
40,000 meters of lamination/day
200,000 meters of webbing/day
100,000 meters dust-proof/day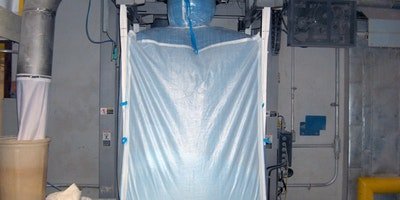 What's the right type of fabric and construction of your FIBC bag?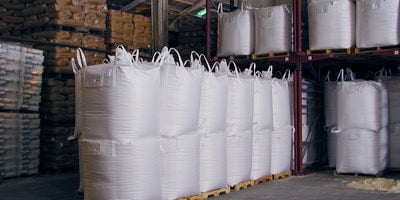 Material Motion, Inc produces all types of FIBC bulk container bags with several types of stitching patterns to enhance functionality and utility of the bag.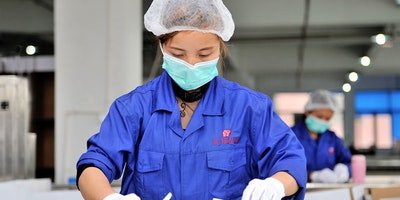 Our FIBC bag quality control program focuses on cleanliness and hygiene that ensure all our FIBC bags, especially our food grade FIBCs, are sanitized and free from dust, germs, and pollutants.
Have one of the specialists at Material Motion contact you to find the right solution for your packaging needs!