Multiwall Paper Bags or sacks are ideal for shipping aggregates, sand, cement or other fine granular products.  We can customize these bags to your specific filling and shipping needs.
Combine our multiwall paper bags with several different substrates and layers to produce a custom bag to fit your specific needs. Our multi-wall paper bags come in sizes ranging from 1 to 100 pounds. Plain paper bags are available, and printed bags come in up to nine colors.
For paper valve bags in particular, we offer many options:
Tuck in Sleeve
Double Trap
Poly Lock
Paper Tube
Sonic Seal
Looking for multiwall paper valve bags in other materials? Click here for Material Motion's line of Poly Valve Bags.
Building materials such as cement or sand
Food products such as flour or pet food
Seeds and Grains
Chemicals such as fertilizers or resins
We offer various bag styles for every filling need:
Open Mouth Multiwall Bags are closed on one side of the tube.
Pinch Bottom Open Mouth Bags (PBOM)
PBOM bags are a good solution for products of varying density. They can be sealed with sewing or hot-melt to create a superior barrier and sift-proof closure.
Excellent sealing properties
Variety of barrier options
Optimal palletization
Attractive bag shape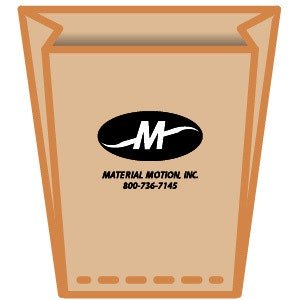 Sewn Open Mouth Bags (SOM)
SOM bags are sewn closed. SOM bags are ideal for dry products that do not require barrier protection and can be made to be opened using only a single cord for easy access.
Optimal palletization
Self-supporting for display
Reliable hygienic closure techniques
Meets various filling prerequisites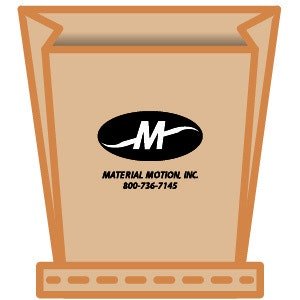 Pasted paper valve bags are cost effective and offer high filling speeds, fast air evacuation, sift resistance and optimized palletization. They are a great solution for free-flowing powders or granular products on spout packers.
High Speed Filling
Flexible Closure Options
Optimal Palletization
Self Opening Satchel (SOS)
Self Opening Satchel bags are flat-bottom, gusseted bags that stand up making them ideal for filling and displays.
Full surface print of bottom
Suitable for all fill and seal machines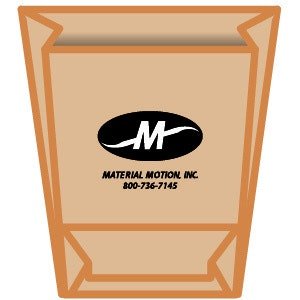 Along with our extensive distribution network and our commitment to quality, our multi wall bag factory is also fully vertically integrated. The forests, pulp mill, paper mill and converting area are all owned and operated by the same company. This allows our customers to have consistent paper quality, a steady price that is NOT tied to global prices and a steady supply. Unlike most companies Material Motion never has to worry about tightening supplies of top grade paper or the rising costs
Multiwall Paper Bags Factory
20 million bags per month
Fully integrated production and own forestry base
One of the top 3 manufacturers of Kraft paper and the main exporter of industrial bags in Brazil
Fully integrated W&H production lines from printing, tubing, bottoming, and packing.
Food grade certified raw material and FSC (Forest Stewardship) certification
Material Motion offers custom printing on all of our multiwall paper bags. We have an in-house graphic design staff to help you promote your brand or product.
Have one of the specialists at Material Motion contact you to find the right solution for your packaging needs!